Many of us dream of having a peaceful and tranquil outdoor area to relax in, enjoying the summer sunshine and making the most of our idyllic garden spaces. But to truly achieve the outdoor paradise you have been imagining, a custom designed pool may be the perfect addition.
Custom designed pools provide homeowners with the opportunity to tailor the pool to their exact requirements and preferences, allowing them to make full use of the available land and create a luxurious, unique outdoor area. Such a pool offers numerous benefits, from creating a stunning focal point to providing a relaxing area to enjoy with family and friends.
So if you're looking for a way to make the most of your garden space and create your dream outdoor space, then a custom designed pool may be the perfect solution. With the potential to add value to your property and increase your quality of living, it might just be worth it.
Are Custom Pools Worth It?
Benefits Of Having A Custom Swimming Pool
Below are some of the benefits of having a custom designed pool aside from giving you an opportunity to create a unique and beautiful space that you can enjoy for years to come:
Personalized Design: With a custom pool, you can customize the design to fit your lifestyle and tastes. You can pick the size, shape, and materials used to create a pool that's completely unique. You can also add features like waterfalls, lighting, and other architectural elements that will make your pool stand out from the rest.
Increased Resale Value: Having a custom designed pool can add value to your home. When it's time to sell, having a pool that is attractive and one-of-a-kind can help you get top dollar for your home.
Low Maintenance: Custom pools are built with quality materials that will last longer and require less maintenance than traditional pools. This means you'll have more time to enjoy your pool instead of worrying about repairs or maintenance.
Increased Functionality: With a custom pool, you can choose features that will make your pool more functional. You can add a built-in hot tub for relaxation, a separate pool for exercise, or even a slide for extra fun.
Having a custom designed pool can be an excellent way to add value and functionality to your outdoor space. Whether you're looking for a place to relax and unwind or a space to entertain friends and family, a custom designed pool can help you create the perfect outdoor oasis.
Understanding The Costs Of A Custom Designed Pool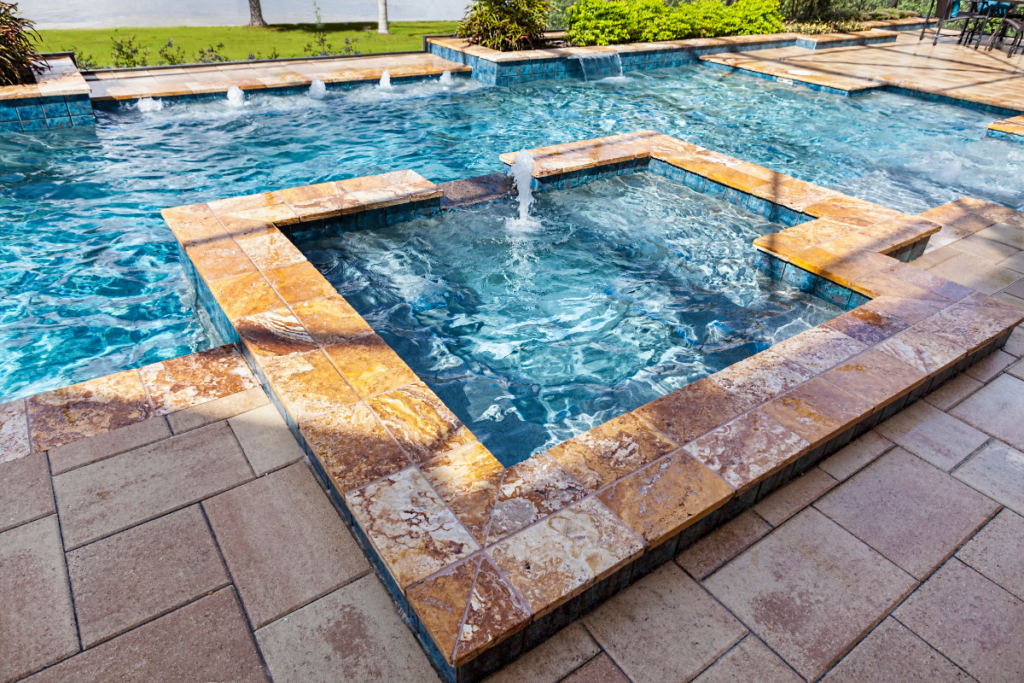 When deciding to install a custom designed pool, it is important to understand the costs associated with the project. Taking into account the various factors that go into determining the cost of a custom pool can help you plan accordingly and ensure that you stay within your budget.
Here is a look at some of the factors that go into calculating the costs of a custom designed pool:
The Design and Size of the Pool: The design of the pool will determine the size and shape of the pool and provide a basis for the overall cost. As the size and complexity of the pool increases, so will the cost.
Materials Used: The type of materials used will play an important role in the overall cost of a custom designed pool. Materials such as concrete, vinyl, fiberglass, and gunite each have their own advantages and cost associated with them.
Labor and Installation: The labor and installation costs for a custom designed pool will depend on the complexity of the pool design, the experience of the contractor, and other related factors.
Additional Features: Adding additional features such as a spa, waterfalls, lighting, and landscaping will add to the overall cost of the pool.
Maintenance Costs: The cost of maintaining a custom designed pool will vary depending on the type of pool, the size, and other factors.
Dreaming of your very own pool, but worried about the cost? Fear not! Clear Water Pools is ready to make your dreams a reality. Get in touch now for our irresistible pool financing options and don't let the cost of designing a custom pool dampen your dream pool plans.
Custom Swimming Pool Design Options
Creating a custom designed pool for your outdoor space can be an exciting adventure. So here are some design options to consider for your custom pool:
Size: The size of your custom pool will depend on the size of your outdoor space. Consider the available area for installation and how much space you'd like to have around it.
Shape: The shape of your pool can affect the overall look and feel of your space. From classic rectangle and circle shapes to free-form and irregular shapes, there are plenty of options.
Materials: The type of material you choose for your pool can determine its durability and longevity. Common materials used for custom pools include concrete, fiberglass, and vinyl liner.
Depth: The depth of your pool can be customized to meet your needs. From shallow wading pools to deep diving pools, the depth should be based on your desired use.
Features: Consider adding special features to your custom pool. These can include waterfalls, diving boards, slides, and lighting.
Accessories: To enhance your pool, you can add accessories such as pumps, filters, and pool cleaners. You can also add pool toys, pool chairs, and floats to make your pool more enjoyable.
Whether you're looking for a small and simple pool or a large and luxurious one, there are many design options available. With the right planning, you can create a custom pool that you'll enjoy for many years.
Tips For Maintaining Your Custom Pool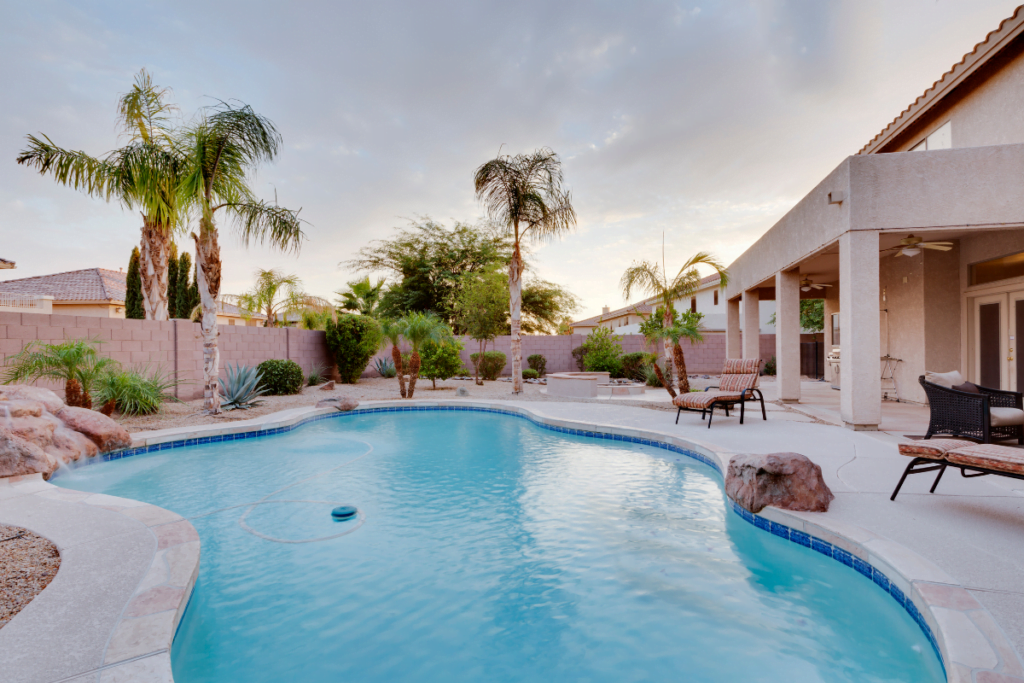 With proper maintenance and care, your custom designed pool can be a great addition to your backyard and provide a great space for relaxation and entertainment. So here are some tips for maintaining your custom pool:
Check Your Pool Chemistry Weekly: The balance of chemicals in your pool is essential for keeping it clean and clear. Regularly checking your pool chemistry ensures that water is safe to swim in and that the pool's surfaces are not damaged by pH imbalances.
Regularly Clean Your Equipment: Regularly cleaning and maintaining your pool's equipment such as pumps, filters, and skimmers is important for keeping your pool in tip-top shape. Regularly cleaning these components helps ensure that they are operating efficiently and that there are no clogs or issues with any of the pool's components.
Clean the Pool's Surfaces: Regularly cleaning the surfaces of your custom pool is important for removing dirt and debris as well as preventing the buildup of algae. Be sure to use the right cleaning agents for the surface material of your pool.
Maintain Your Pool's Water Level: Make sure to maintain your pool's water level by checking it at least once a week. This is important for ensuring that your pool's components are operating at their optimal level.
Schedule Professional Maintenance: While regular maintenance is important for your pool's upkeep, it's also important to schedule regular maintenance with a professional. A professional can inspect your pool to ensure that everything is in working order and can perform any needed repairs or maintenance.
While it may seem like a large investment upfront, there are many advantages to having a custom pool in your backyard. And by following these tips for maintaining your pool, you can ensure that it stays in great condition and that you can enjoy it for a long period.
Ideas For Decorating Around Your Pool
From landscaping to selecting the right furniture, there are countless ways to ensure your custom designed pool is the centerpiece of your outdoor area. So here are some ideas for decorating around your custom pool:
Add Colorful Landscaping: If you want to add a splash of color to your outdoor space, consider adding colorful plants around your custom designed pool. Opt for bright blooms or choose perennial plants to provide a pop of color all season long.
Add Outdoor Lighting: Installing outdoor lighting around your pool will create a luxurious atmosphere while also increasing visibility. Consider installing recessed lighting around the perimeter of the pool to create a romantic atmosphere or string up some outdoor lights for a festive touch.
Add Comfortable Seating: To make the most of your custom designed pool, add some comfortable furniture to relax on. Whether you choose to add cushioned chairs and benches or chaise lounges, you can create a pool deck that's perfect for entertaining. Don't forget to add some umbrellas for when the sun is too strong.
Incorporate Patio Stones: Incorporate patio stones to create walkways around your custom pool. This will help you define spaces and create a cohesive look in your outdoor space. Consider using a different color or texture to create visual interest.
Include A Water Feature: Adding a water feature such as a waterfall or a fountain to your custom pool will enhance its aesthetic value. This will also add a peaceful sound to your outdoor area and create a relaxing atmosphere.
Take your time when decorating around your custom designed pool. Think about which elements will work together to create your dream outdoor space. With the right decorations, you'll be able to turn your pool into a luxurious retreat.
Dive Into Your Dream Pool With Clear Water Pools!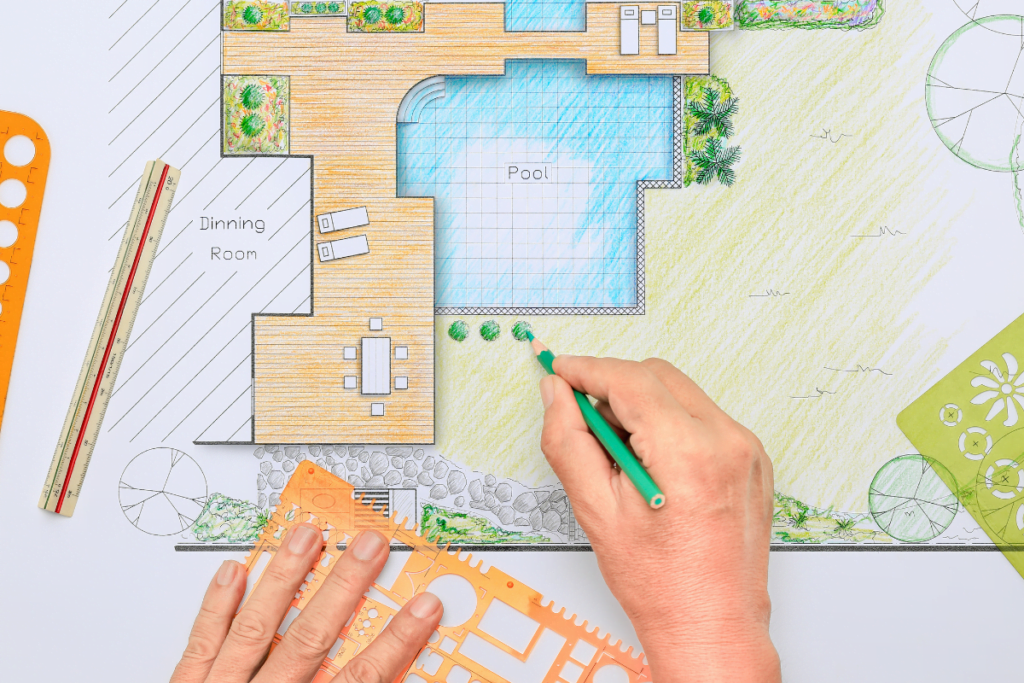 Is the dream of a custom designed pool shimmering on the horizon of your thoughts? Are you envisioning a perfect oasis of relaxation right in your backyard, but aren't sure of the costs involved? Clear Water Pools is here to put all your doubts to rest!
We specialize in bringing dreams to life with our custom pool designs. Whether you envision a simple backyard retreat or a lavish oasis, our experts can craft a design that fits your vision and budget.
Contact us today for a FREE custom designed pool estimate. There's absolutely no obligation, just a clear, comprehensive estimate to bring your dream pool within your reach. We believe in making luxury attainable and affordable, and our custom pool designs reflect just that.
We also believe everyone deserves a touch of luxury in their lives and with our expert designs, your backyard can be transformed into your personal paradise. Don't just dream about it, dive into reality with Clear Water Pools!