Swimming Pool Options Accessories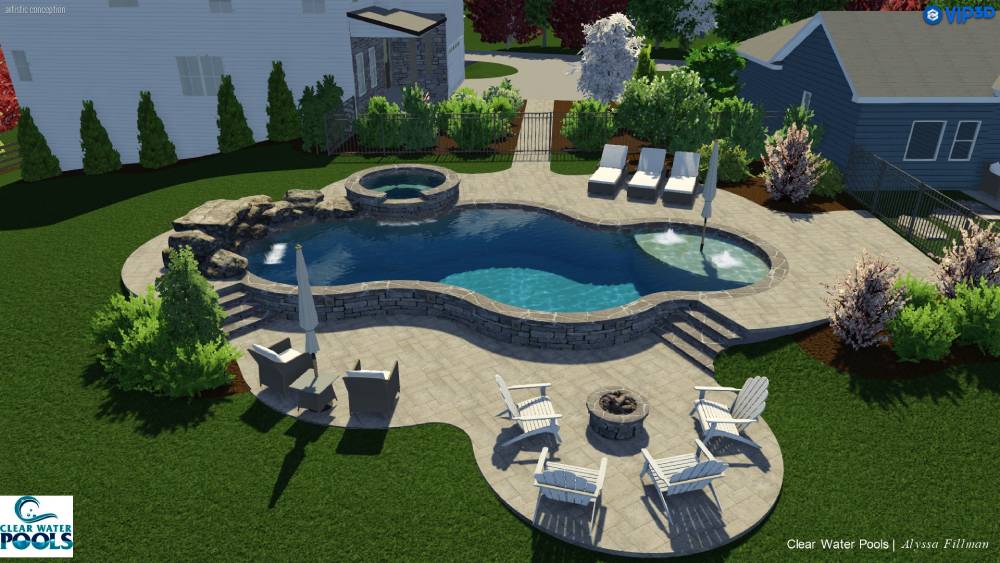 ClearWater Pool in Atlanta Georgia's the leading swimming pool builder! Because swimming pools have become so much more than just a pool, Clear Water has worked hard to build state-of-the-art swimming pools that are more than just a pool, but an adventure in fun! We have a unique and innovative approach to swimming pool design that allows us to build swimming pools that fit your budget, your lifestyle, and your space, in a way that you will love!
A poolscape is a fully integrated pool environment that includes not only the water but also a full array of pool options such as add-on accessories, landscaping, furniture, and more. The idea is to broaden the concept of your swimming pool into more than just swimming.
Today's pool owners are taking full advantage of the investment they've made by adding a variety of options that allow them to enjoy their new lifestyle as pool owners. Below are some examples of items you can use to create a fully integrated poolscape.
A few of our accessories that you can choose from with your pool are listed below.
By partnering with Clear Water Pool you're partnering with the best in the business! We can design you a brand new swimming pool or remodel an existing swimming pool to suit all of your needs! We have a full range of pool options. Please take a look at all of the swimming pool options for the Atlanta Georgia area that we have to offer!
Beautiful, colorful, lush. Landscaping can be one of the easiest additions to your poolscape, yet can have the most impact. We can help you select a variety of combinations to work well in your backyard.
Nothing beats a good cook-out. A free-standing or permanently installed grill makes for a great addition. Can't you just smell the aroma of charcoal as you grill those juicy burgers?
Safe and secure — by adding an attractive fence to your poolscape, you increase security by helping to prevent outsiders from entering the area. There are a variety of styles and colors to choose from.
Add lighting to your backyard and discover a new dimension of your pool and spa. Whether you choose fiberoptics or landscape & incandescent lighting, this is one feature that is sure to increase the nighttime aesthetics of your backyard.
Enjoy one of the most convenient ways to swim, eat and relax simultaneously! The pool bar is a great addition to any style pool by allowing you to serve refreshments at the poolside without ever having to leave the water.
This is a relatively new concept to poolscapes. Fire pits allow you to enjoy a naturalistic approach to you pool. Imagine the possiblities . . . roasting marshmellows, cuddling with your spouse, etc.