While your backyard swimming pool is busier during the summer, there's no reason you can't make it festive for the holidays. It's more important than ever to spread Christmas cheer this year. So go ahead and design some Christmas pool decorations to your heart's content – let your imagination go wild!
Decking out your pool can completely transform the look and feel of your backyard, making it ideal for holiday parties or intimate Christmas celebrations with your family. You have to make sure that you choose the theme first, whether it's a winter wonderland, white Christmas, or something bright and colorful. Whatever you want, the theme is vital to be able for you to choose decorations that will work harmoniously together when combined.
There are many ways to decorate your backyard pool to make it festive for the holidays. Are you looking for some Christmas pool decorations for the holidays? Continue reading for some creative ideas.
Decorative & Colorful Lights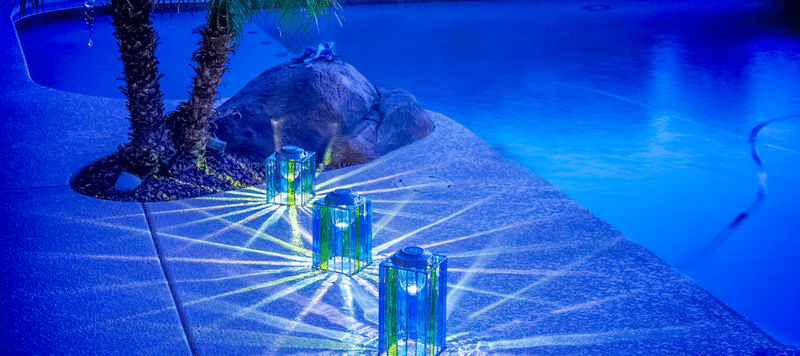 Christmas and lights, especially the colorful ones, have always been inseparable. You can give your backyard a unique Christmas touch with some decorative lighting. The lights will be reflected in the water, multiplying their effect a hundredfold and creating a stunning sight.
Lights can be a fun way to decorate your pool, but you must utilize them responsibly. Solar or battery-powered lighting should be used within 5 feet of the pool, and never use plug-in Christmas lights around the pool.
Consider wrapping string lights around the trunks of your existing trees and into the branches. Colored light shapes and characters may bring an extra touch of delight to your backyard. Icicle lights, which give a winter wonderland effect, are another excellent option for the holiday season. To see the light shimmer off the pool water, you may use lights with a twinkle setting.
Christmas Themed Outdoor Inflatables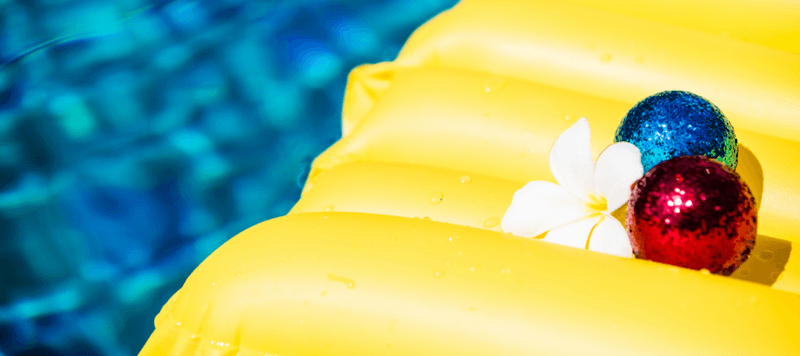 You can use outdoor Inflatables in or around the pool. A 10ft Santa Claus, top-hat-wearing snowman, or red-nosed reindeer would be ideal for this Christmas season and would undoubtedly entertain your family and friends, particularly the children. And if you want to go all out, you can make Santa his floating sleigh.
Since they float in the water, inflatables are a terrific complement to any pool. However, avoid placing inflatables too close to any lights or candles.
Floating Lanterns or Candles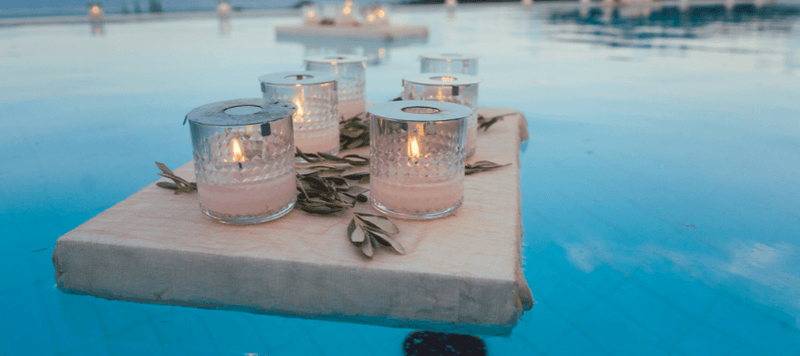 Consider floating lanterns or candles on the water if you don't have the budget for giant inflatables. You can color the candles, or they can be plain and white. It depends on how you imagine the design of your pool would look.
Floating candles are beautiful and unique. They can be placed into your pool and will swim all night, lighting up your backyard and reflecting the beautiful candlelight through the water. However, do not combine floating candles and inflatables, and only use floating candles if your pool is not used.
Christmas Ornaments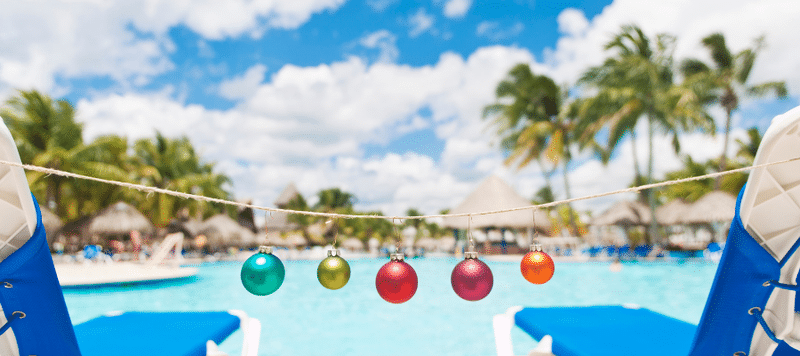 Ornaments can be strewn across the greenery in your garden and hanging from the roof, not just on the Christmas tree. Decorations are available in a variety of forms and sizes, allowing you to create the perfect look for your Christmas-themed backyard pool.
Pool Side Christmas Tree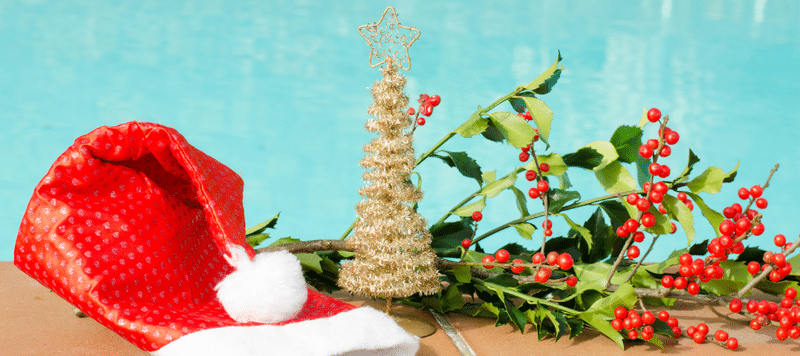 This holiday season is not complete without the presence of a Christmas tree. So, why not build one at your poolside to give more emphasis to this joyful season and spread the Christmas spirit to your family and friends?
You can build a Christmas tree with your family as part of your holiday bond together and get creative as much as you want. Who knows? This can become your family tradition to bring the family closer every year!
Floating Christmas Tree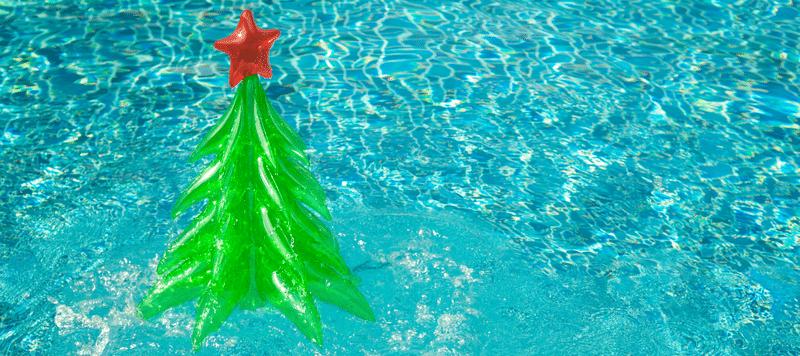 Why not add a floating Christmas tree to your pool to take it to the next level? There are new floating Christmas trees on the market that are entirely lighted with LED lighting.
These LED Christmas trees are eye-catching and will serve as the focal point of your pool decorations. The lights from it will reflect in the water, creating a brilliant shimmer effect that will make your guests' eyes dazzle. This Christmas, your pool can be the center of attention with this floating Christmas tree idea.
Green Garlands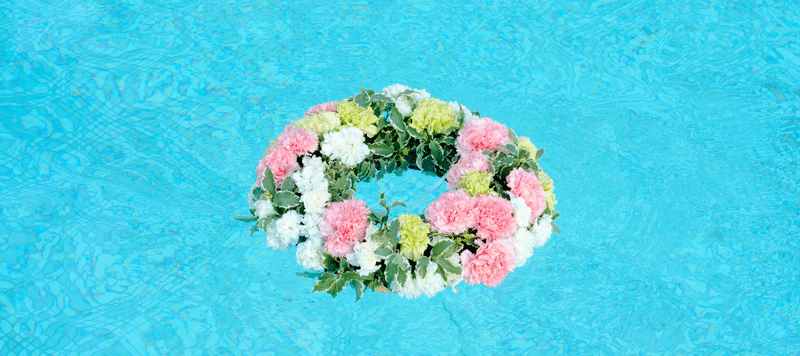 Your holiday pool decorations will also flourish from some greenery. Green pine boughs can be placed on tables or added to the top of your privacy fence. Long strands of artificial green garland that look almost real can also be bought.
You can hang the garland around the pool or on the privacy fence. Add a few red ribbons and Christmas ornaments to finish the look. Garlands and wreaths are versatile and can be attached to various surfaces. If you like the garland idea, a wreath or two might be a good addition as well.
Blue Pool Water Dye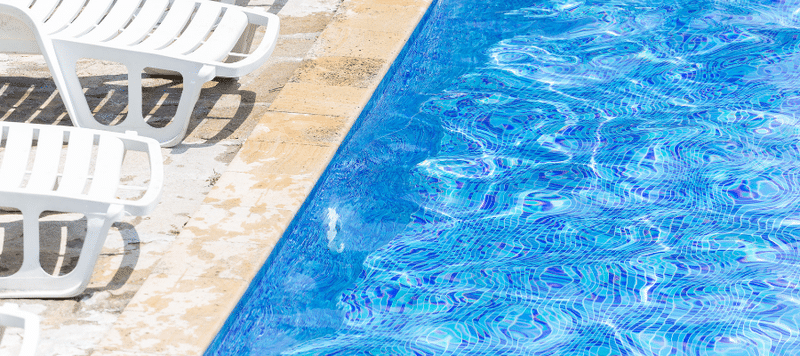 This holiday season, give your pool a new look. If you're planning to host a Christmas party at your backyard pool, a pool water dye can help you make it more festive.
There are a variety of blue pool water dyes on the market that may temporarily transform your dull pool water into a deep or vivid blue color. Most of it is non-toxic and will not stain your clothes, pool flooring, or walls.
Colorful Lighted Fountains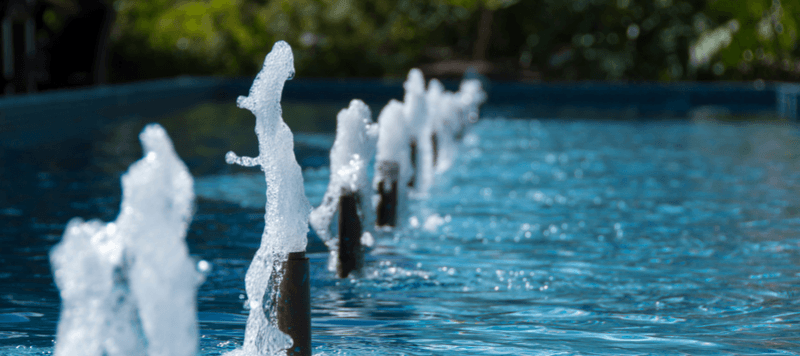 You can add a variety of colorful fountains in addition to the inflatables and floating lights. Nothing compares to enjoying while making memories with your family while listening to the soothing sounds of a rush.
Many fountains have light wheels that can change the color of the water while it is running. Fill it in with color and indulge in the warm glow of your colorful lighted fountains.
Get Christmas Pool Decorations Done With Us!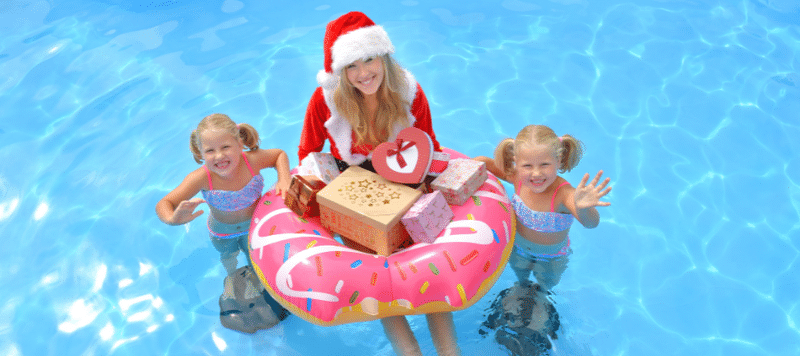 If you plan to decorate your pool for this holiday, all the Christmas pool decorations for the holiday ideas we shared with you above will help you make your backyard pool as festive as possible.
Don't have a pool? At Clear Water Pools, we specializing in building custom pools. Contact us so you can have a pool to decorate yourself. Get creative to put your pool in the mood for the holidays!