Adding a kids swimming pool with slide in your backyard can give a whole new experience to your family. It is a child's fantasy that adds to the fun while enjoying a swim in sunny weather. However, there are a lot of things that you need to consider before you build your kids swimming pool with slides.
Size and Type of the Pool
In order to choose the right kids swimming pool with slide, you should consider the size and type of your pool. Assess your pool if it's possible for you to add a pool slide.
It is worth remembering that not all pools are designed to handle this kind of feature. If you have an infinity pool that captures an elegant and sophisticated vibe, then adding a brightly colored slide may not be a great idea.
Additionally, you need to consider whether your pool is above-ground or in-ground. Each of them requires different methods of installation. You can talk with a pool professional to help you determine if the size and type of your pool make it possible to add a pool slide.
Space and Location of the Pool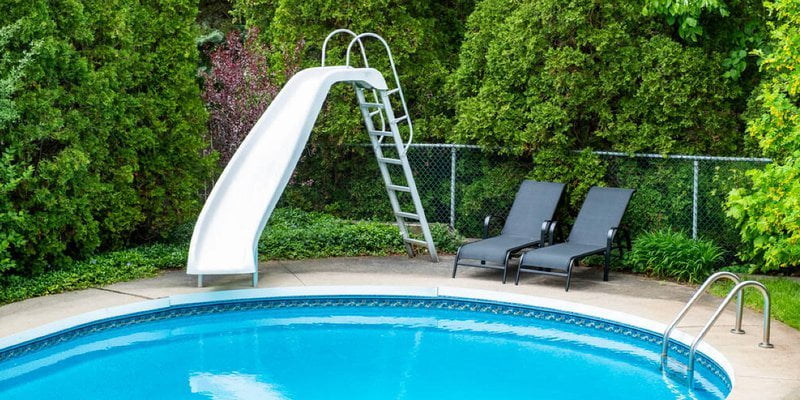 Before you decide to install a pool slide, determine the location and available space around your pool. Pool slides require a certain amount of space to install. The installation process must be carried out in a safe manner to maintain safety.
The last thing that you want to happen is for your kids to awkwardly walk around your pool or swim under the slides to access the ladder of your pool slides. Position your kids swimming pool with slide in an area where your kids can easily access the pool slide ladder. It is also recommended for you to position your pool slide facing the view deck so you can keep an eye on your kids while they are enjoying splashing down the slides.
Safety Guidelines and Regulations
Most places have laws to ensure the safety of kids swimming pools with slides. It is important for you to comply with safety guidelines before building a pool slide to ensure safety, especially for your kids.
Check your local regular and guidelines for building pool slides to determine if your pool can add this pool feature to avoid problems with the authorities later on.
Your Budget
Installing a kids swimming pool with slide can be expensive. The installation cost varies depending on the size or type of slides you choose. Aside from the materials, don't forget that you also need to pay for the assembly and installation fees. That's why one of the things that you need to consider before building a pool slide is your budget.
Pool Slide: Size, Design, and Material
If you search online for some sample photos of a pool slide, you will see hundreds of them. Pool slides come in a variety of shapes and sizes. It also comes in different color variants. You can even request a personalized one.
Assess your pool to identify what type of pool slide you would like to install. You can choose something that will complement the overall vibe of your backyard pool or anything that will suit your needs and requirements.
Running Water Supply
All pool slides need running water to make the slide more slippery. It can also help avoid injuries such as bruising or scratching when going down the slides.
You can either use a hose connected directly to your house's water line or install a water system for circulation. Both are effective options as long as you make sure to maintain a running water supply on your pool slide to make it slippery and fun.
The Right Contractors to Do the Job
It can be dangerous to install sub-standard pool slides. Safety guidelines and regulations for installation are in place for a reason.
The least you want to happen is to put your kids at risk to save a couple of bucks. So, make sure that you talk to professional pool contractors like Clear Water Pools Atlanta, who can do the job for you.
Regular Maintenance
Whenever you clean or are on regular maintenance to your pool, make sure not to skip cleaning your pool slides. It's essential to regularly maintain your pool slide as it can go wobbly. Screws become loose over time and might cause unexpected accidents.
Will you install a pool slide in your inground pool? Don't worry! At Clear Water Pools Atlanta, we can install your dream pool slides for you and take care of the rest. Contact us now and request a free estimate.