What is a Pool Tanning Ledge or Sun Shelf?
Pool tanning ledges are shallow shelves that are typically placed around the sides of the pool, varying from 5 to 9 inches deep. However, they can always be customized.
A tanning ledge, also known as a sun shelf, is typically made of , fiberglass or vinylde pending on the type of pool, the budget and the owner's intent. This feature is commonly made so a lounge chair, tables, and umbrellas could be placed on the surface.
Many pool owners lounge on tanning ledges or sun shelves while drinking, reading, and relaxing. It is definitely something to consider when planning a pool for your backyard.
Do You Really Need a Tanning Ledge in Your Pool?
You need one if:
● Pool events tend to dominate your agenda.
● Swimming is not your thing, but you still want to feel refreshed.
● You have young children.
● Your pets love the pool.
● You have extra money.
On the other hand, you might not need a pool tanning ledge if:
● You use your pool mostly for laps and training.
● Family members do not have young children.
● Your pool is rarely used.
● Chilling by the poolside is not your thing.
Tanning ledges are a great investment for pool owners, since swimming pools are a huge benefit, mostly if you like to host events or enjoy outdoor activities.

How Much Does it Cost To Have a Tanning Ledge?
It is not necessarily expensive to build a tanning ledge for your pool, depending on the size and materials you choose. Below are the most common materials used for tanning ledges depending on the type of pool you have. 
Concrete. Concrete sun shelves naturally cost a few dollars. It could vary from $50-$200
with building crew charges.
Vinyl. It's possible to install a Tanning Ledge on an inground vinyl swimming pool. Also known as a Baja Shelf or Sun Lounge, it replaces the standard drop-in white thermoplastic steps. Vinyl pool liners are usually only priced by a professional. Consulting is always a better idea since it allows professionals to estimate the price and the time to be consumed.
Fiberglass. Installing a fiberglass sun shelf with a built-in ledge might cost you around $5,000-$15,000 and an extra $370 for installation. If you disregard costs and prices, these three materials have various pros and cons that will
make you reconsider your choice.
Pros & Cons Of Tanning Ledges
Concrete Pool Tanning Ledge
Pros: 
Shapes and sizes can be customized.
It can be placed anywhere around your pool.
Cons:
Playing on the rough surface of concrete (gunite) is not always ideal for children. In addition to harboring algae, the rough texture of concrete pools can also hurt sensitive feet.
Vinyl Pool Tanning Ledge
Pros: 
Pool ledges made of vinyl tend to be cheaper.
Cons:
In comparison to concrete, vinyl pools are not as durable, so you'll have to replace them periodically.
Fiberglass Pool Tanning Ledge
Pros: 
Fiberglass pools really are as low maintenance as people claim. For example, non-porous surfaces mean you spend less time balancing chemicals and scrubbing the walls.
It will also be easier for pool maintenance without having to acid wash it, replace the vinyl lining, or spend a day patching holes in the liner.
The fiberglass swimming pool with a tanning ledge allows you to experience the warmth of the sun while staying cool in the refreshing water.
Cons:
A slippery pool surface is one of the biggest complaints that we see. In fact, fiberglass surfaces are so slick that users can slip and fall. This can be a real problem for pool steps, which can lead to serious falls and injuries.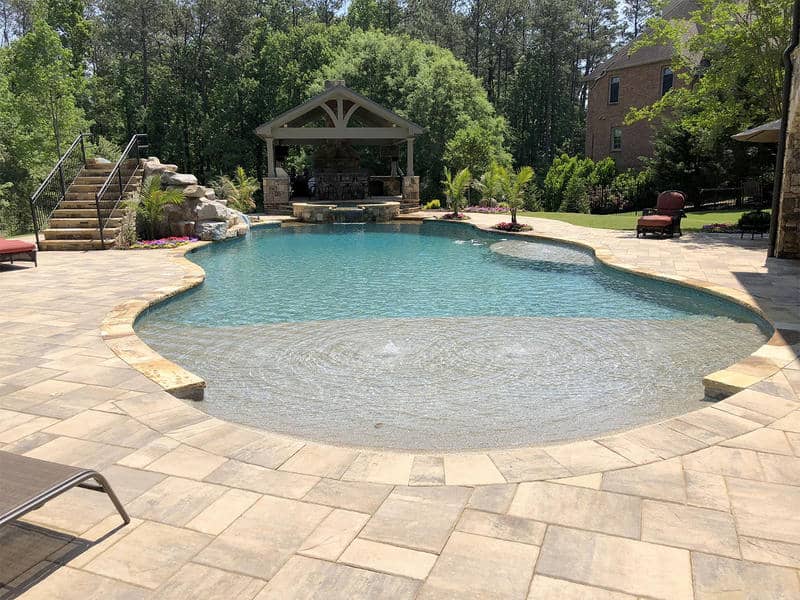 Benefits of Having A Pool Tanning Ledge & Sun Shelf
If you've already decided to install a pool tanning ledge, here are some benefits you can enjoy.
Safe entry for children. Kids love to splash around and swim a lot, especially during summer. Having a tanning ledge allows you to feel safer knowing that your kids are in a safe spot around your pool, considering the depth of your sun shelf. Moreover, a sloped design pool tanning ledge is excellent for young adults since it provides you an idea of the pool's depth.
Feel refreshed without plunging into the pool. By spending more time relaxing on your pool sun shelf, you'll experience the benefits of swimming with less energy spent. The refreshment of being near the water is incomparable.
Tanning. If you're looking for a way to tan without going to the beach, a pool sun shelf is a perfect option for you since you'll be able to achieve the tan you've always wanted by just laying down your furniture on your tanning ledge. But, wait! Don't forget to wear your sunscreen.
Atmosphere. Bubblers and lights can be installed to make them into a fountain area.
Pet friendly. Pet owners have claimed that having a pool sun shelf made their pet's pool experiences even more fun since they have a place to hang out without having the need to dip into the depth of the pool.
As mentioned, some pool tanning ledges can be customized depending on the idea and design that the pool owner wants to have. These are some of the most aesthetic plans for pool sun shelves if you are looking for various ideas and themes to choose from.
Open shelf. An open frame is a great idea for adults since this could fit roughly 2-3 pieces of furniture with extra tables. 
Enclosed shelf. This is similar to a regular pool but less deep, has low walls, and is typically attached to a bathtub.
Slope or tiers. These kinds of pool tanning ledges are basically in a sloped shape leading to the deeper part of the pool.
Conclusion:
Adding a tanning ledge to a pool may cost extra money for pool owners, but it makes the pool a lot more fun and entertaining for you, your pets, and young kids, especially in the hot weather. Contact Clear Water Pools of Atlanta for a free pool estimate on designing and building your backyard pool or tanning ledge.