The Cost of An Inground Pool: Pool Pricing Basics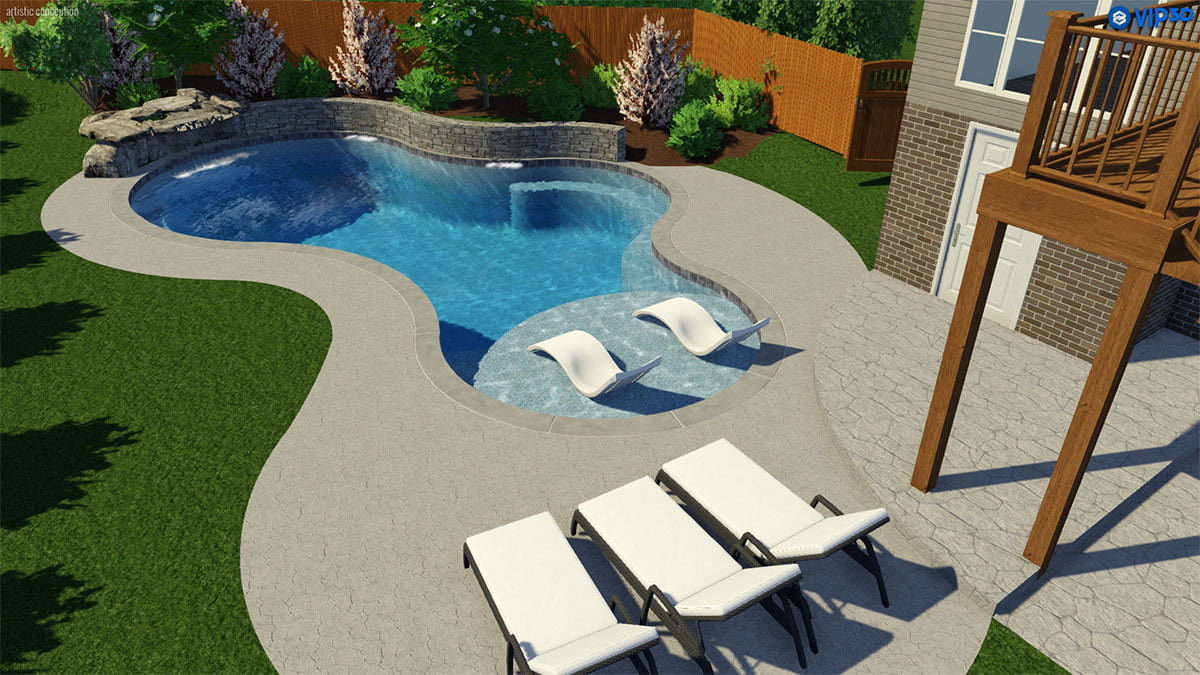 If you're a homeowner in the Metro Atlanta area, you're probably attracted by the idea of having an inground pool in your backyard. You might also be turned off by the potential cost of an inground pool. A lot of factors go into pool pricing, and we'll explain each one in detail.
The first and largest factor is the size of the pool. Most companies charge an average rate of $100 per square foot. The size will also determine the general cost of labor and the amount of materials that will be needed for the rest of the project.
The next factor is the pool's depth. Digging deeper than four or five feet costs more than a relatively shallow pool would. Of course, the depth of your pool depends on your intentions. If you have kids, then you should keep your pool fairly shallow. If you intend to have a slide or diving board, then a deeper pool is a better option.
The third factor that we consider is the pool's material. Not only will it determine what your pool will look like, but it can also factor into its durability and lifespan. Vinyl is the cheapest and most popular option, and there are several different lining patterns to choose from. If you want something more expensive, like tile, we can provide that as well.
Factor number four is the shape of the pool. Square or rectangular pools are cheaper while custom shapes can add as much as a few thousand dollars to your final estimate.
Next, there's location to consider. Here in the Metro Atlanta area, the cost of living is still relatively low compared to many other large cities, so the cost of an inground pool is lower than it would be in, for example, Miami. Because of that, the average inground pool will cost you about $35-45,000. Some pools, however, can cost as much as $50,000 or more.
All of that is for the basics. If you want those lovely add-ons that inground pools are better at providing than above-ground units, we've got you covered. They do, however, cost more.
As we mentioned earlier, just getting your pool deep enough for a slide or diving board can be expensive. On top of that, actually getting the equipment has its cost. Diving boards average $400 while slides can vary based on the design and length that you have in mind.
Another good add-on is lighting. Basic lighting will keep your pool safe to swim in at night, and it's fairly inexpensive. If you want to spend a little more, you can actually make your lighting fit in with the pool's appearance, which will make your pool popular with your neighbors.
Many homeowners opt for spas or hot tubs as part of their inground pools. While having one can be both relaxing and therapeutic, it's also one of the most expensive features you can add to a pool. Any good contractor will let you know from the start how this will affect your pool's cost.
As we have said, the costs are relatively low compared to other large cities, but they're growing all the time. Pool pricing has generally increased nationwide since 2015, and Metro Atlanta's cost of living has also been rising as more people move into the area. At Clear Water Pools, we can let you know just how much your pool will cost based on all of the factors mentioned above. We can provide you with a free estimate that shows just what we plan to do and how long it will take. Be sure to check out our pool discounts and prices. Contact us today to make an appointment.